Gillray's Works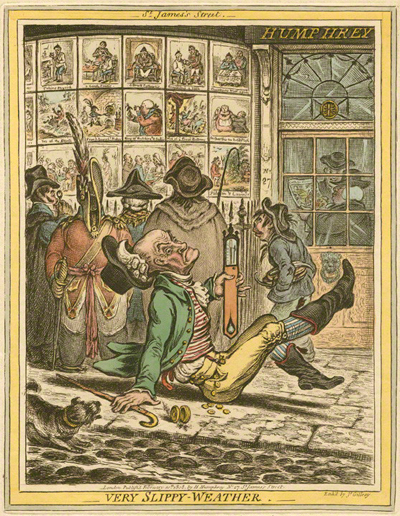 Print Sizes
One of the few drawbacks to the current availability of Gillray's prints online is the understandable but mistaken impression one receives that Gillray's prints are roughly the same size—that he had perhaps one standard portrait size and another standard landscape size. This impression is unfortunately reinforced by images of print shop windows like Gillray's own Very Slippy Weather [1808]. But in fact the window as shown the print is quite impossible. The actual print of George III examining a tiny Napoleon featured prominently in the Slippy print is about 12-1/2 by 10 inches (32 x 25.8 cm). The print of the man proposing to his well fed mistress in the same row is not quite 8 x 8 inches (20 x 20 cm). And the print on the other side of George, showing Napoleon in front of a stone bakery oven, is about 10 x 15 inches (25 x 38 cm).
Once you start looking at at Gillray's prints carefully, and especially in person, you cannot miss the fact that there are definite differences in print sizes. Some of the minor differences remind one that this was after all a manual process. In the Eloquence series, for instance, where you would expect consistency in size, Ministerial Eloquence measures 12.1 x 8.1 cm whereas Opposition Eloquence measures 12.8 x 8.8 cm—a little over 1/4 inch in each direction. In another series, the New Pantheon of Democratic Mythology, Cupid is 24.9 x 19.0 cm; The Affrighted Centaur... is 26.2 x 20.1 cm., or about a half an inch in each direction. When comparing Gillray's choice of print sizes, therefore, one must not expect the kind of standardization one finds in today's printing processes. Differences in plate size could have been made up by larger or smaller margins on the paper.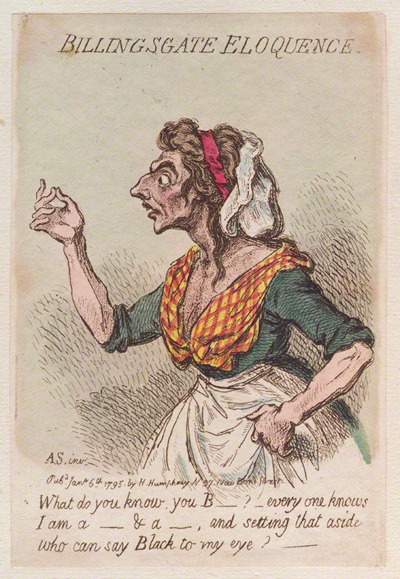 But with that being said, there are still significant variations in print/plate size that need to be examined. Gillray's smallest landscape prints are around 4 x 7 inches (10 x 18 cm); the largest are approximately 17 x 22 inches (43 x 55.9 cm). And there are a couple of extra wide formats for processional prints that measures 25-28 inches wide (66 cm), and an extra, extra-wide format published by Fores (who published the similar Long Minuet by Bunbury) measuring 84 inches (213 cm)! The most common size, and one that seems to have been used at one time or another by all the printsellers, is approximately 10 x 14 inches.
We find similar variation in Gillray's portrait-oriented prints. The smallest are a tiny 3 x 2-1/2 inches; the largest are approximately 20 x 16 inches. There are numerous intermediate sizes. But again, the size that is most common is approxiately 14 x 10 inches.
The print Billingsgate Eloquence [1795], for instance, like Quiz-zing a Filly [1795] elsewhere on this site is roughly 5 x 3 inches (12 x 8 cm), about the size of a small note card. The print A Bravura Air Mandane [1801], however, which also shows a single figure is almost 14 x 10 inches (36 x 25.5 cm), or roughly 3 times the size. What were some of the factors that dictated print size for Gillray?
One factor was likely the print shop publisher. Holland, for instance, seems in general to have preferred larger, squarer formats than the Humphreys. When Gillray was preparing a print for Holland, for instance, he might have simply used one of the accepted Holland sizes. When he was working for the Humphreys, he would have used one of their sizes.
Another factor, especially with prints based on drawings or suggestions from others, might have been the specific requirements of those patrons, and the likelihood of the effort resulting in increased sales. Certainly the work Gillray did for Sneyd and Canning while he was receiving a government stipend would have been influenced by their needs. But in other cases, it's hard to imagine Gillray spending too much time and labor on a print that had little potential market.
Gillray was, of course, never anyone's pet lamb. He always had strong opinions about the way the print would appear, and the artist in him could (and would) over-rule the businessman on occasions. Another factor, then, would certainly have been the number of figures and the complexity of the print as he conceived it. Prints like The Union Club [1801] and the New Morality [1798] with dozens of caricatures portraits would necessarily require a wider landscape format. And that's what we find. The Union Club is approximately 12 x 17; The New Morality is almost 25 inches wide. Similarly, the Apotheosis of Hoche [1798], with its huge number of figures and its basis in Renaissance paintings of the last judgment, would necessarily require a large portrait format, in this case about 20 x 16 inches. The Apotheosis of the Corsican Phoenix[1808], on the other hand, a simpler conception with only one figure, is in the standard ~14 x 10 inch size for a satiric portrait-oriented print.

New Morality.... [1798]
© National Portrait Gallery, London
Another factor, especially in Gillray's portrait caricature prints, would have been the prevailing norms and conventions. Gillray's preferred sizes certainly changed over time. In general, we find the smaller sizes appearing early in Gillray's career when both satiric and portrait prints were neither as large nor as popular as they would later become.
In the table below, I have provided a representative selection of the various sizes that Gillray used for his prints along with a list of examples of prints that were designed in that size. It is worth remembering that Gillray would have thought in inches, not centimeters or millimeters, so I have listed the measurements in inches first and then centimeters. Sizes are listed from smallest to largest first in landscape, then in portrait-oriented prints. In order to keep the number of sizes to a reasonable number, I have rounded plate sizes to the nearest inch and then listed the equivalent centimeter measurement, rounded to the nearest centimeter. The intent is to suggest the variety of sizes, not to provide exact measurements of specific prints. Those are all available in the catalogue on this site and from the respective collections referenced.
Landscape Sizes
Plate Size
Examples
Comments
~4 x 7 inches
~10 x 18 cm
Country Politicians[1777]

Used by Richardson.
~5 x 7 inches
~13 x 18 cm
Neither War nor Peace [1783]
The Prince in Clover [1787]
The Prince at Grasse [1787

Used by Fores, Humphrey.
~7 x 8 inches
~18 x 20 cm
The Discarded Viceroy Silenced [1782]
Ecce! [1782]
Used by D'Achery.
~7 x 9 inches
~18 x 23 cm
The Nabob Rumbled, or a Lord Advocates Amusement [1783]
Used by D'Achery.
~8 x 9 inches
~20 x 23 cm
National Discourse [1780]
Used by Humphrey.
~9 x 10 inches
~23 x 25 cm
The Sick Prince [1787]
The Bow to the Throne [1788]
Used by Fores.
~9 x 13 inches
~23 x 33 cm
The Minister In. The Minister Out. [1782]
Frying Sprats, Toasting Muffins [1791]
Two panel format
~11 x 13 inches
~28 x 33 cm
Apollo and the Muses... [1783]
Smaller Holland format?
~10 x 14 inches
~25 x 36 cm
The Liberty of the Subject [1779]
Changing places...[1782]
The Westminster Hunt [1788]
Smelling out a Rat... [1790]
The Weird Sisters [1791]
The Slough of Despond [1793]
The Prophet of Hebrews...[1795]
British Tars, towing the Danish Fleet...[1807]
The Spanish Bull Fight...[1808]
This seems to be the most common size for landscape-oriented satiric prints. Used by Aitken, D'Achery, Fores, Holland, and the Humphreys.
~12 x 17 inches
~33 x 43 cm
The Political Banditti Assailing the Saviour of India [1786]
Market Day [1788] Patriotic Regeneration [1795]
The Real Cause of the Present High Price...[1795]
Used by Fores, Holland, and the Humprhreys.
~15 x 19 inches
~38 x 48 cm
Wife & no wife - or - a trip to the Continent [1786]
Monstrous craws, at a new coalition feas
Fores
~17 x 21 inches
~43 x 53 cm
A Sale of English Beauties, in the East Indies [1786]
A March to the Bank [1787] Fores
Lady Termagant Flaybum [1795]

Large Holland
~9 x 24 inches
~23 x 69 cm
The Offering to Liberty [1789]

An extra-wide format - Aitken.
~9 x 27 inches
~23 x 69 cm
The Funeral Procession of Miss Regency [1789]
The landing of Sir John Bull and his family [1792]
The Grand Coronation Procession... [1804]
The Funeral Procession of Broad Bottom [1807]

An extra-wide format for processions.
~10 x 84 inches
~25 x 213 cm
Installation Supper

An extra, extra-wide format by Fores (who also published similar extra-wide prints by Bunbury) consisting of four separate prints intended to be stitched together.
Portrait Sizes
Plate Size
Examples
Comments
~3 x 3 inches
~8 x 8 cm
Countess of Mount Edgcumbe [1780]
Lady Cecilia Johnston [1780]
Francis Seymour-Conway, 1st Marquess of Hertford [1780]
William Parsons [1782]
Mrs Hexter [1783]
These small portrait caricatures, usually just head and bust, may have started as sketches for other prints. The subjects are not identified, and they are minimally finished.
~4.0 x 3.0 inches
~10 x 8 cm
The Golden Pippin [1783]
A Lady at a Card Party...[1788]

Like the size above these small portrait caricatures, usually just head and bust, may have started as sketches for other prints. The subjects are not identified, and they are minimally finished.
~5 x 3 inches
~13 x 8 cm
At the Opera [1791]
At Church [1791]
A Modern Cherub [1791]
Eloquence Series [1795]
Quiz-zing a Filly [1795]
The prints from the Eloquence series seem to have appeared both as separate prints and as a single sheet. This size may have been used because it lends itself to both.
~6 x 4 inches
~15 x 10 cm
Richard Brinsley Sheridan [1789]
Edward Thurlow, Baron Thurlow [1789]
Captain Morris [1790]
Mr Edwin in the Crusade [1790]
Councellor Ego - i.e. little I, myself I [1798]

An Aitken format. Here too, this size may have been chosen because the prints could be sold in pairs or separately.
~10 in. x 7 in
~25 x 18 cm
A Natural Crop, alias a Norfolk Dumpling [1791]
A Burgess of Warwick Lane [1795]
A Dash up St James's Street [1797]
Half Natural [1799]

Full-length portrait caricatures.
~10 x 8 inches
~25 x 20 cm
French Habits Series
New Pantheon of Democratic Mythology Series [1799]
Gentle manners, with Affections mild, in wit a man, simplicity a child
Pen-etration [1799]
Skiffy-skipt on, with his Wonted Grace [1800]
Jacob Franco [1800]
A Prince of the Old School [1800]
The comforts of a Rumford stove [1800]
Corporeal Stamina [1801]
From Sir William Hamilton's Collection [1801]
All Bond-Street trembled as he strode [1802]

Slightly larger format portrait caricatures.
~11 x 7 inches
~28 x 18 cm
The Finishing Touch [1791]
La Derniere Ressource [1791]
Patent-bolsters [1791]
A Witch upon a Mount's Edge [1791]
For Improving the Breed [1796]

Slightly larger format, still in the portrait caricature tradition, but introducing more explicitly satiric elements.
~12 x 10 inches.
~30 x 25 cm)
A Back View of the Cape [1792]
Neck or Nothing [1792]
The Shadow of a Duke [1795]
La Belle Espagnole [1796]
Un Diplomatique, Settling Affairs at Stevens's [1797]

These appear to be formal portrait caricatures.
~14 x 10 inches
~36 x 25 cm
Gloria Mundi, or the Devil Addressing the Sun [1782]
The Lord of the Vineyard [1783]
State Jugglers [1788] The Rights of Man...[1791]
A Democrat, or Reason and Philosophy [1793]
Pizarro contemplating ...his new Peruvian mine [1799]
The Fall of Icarus [1807]
Pillars of the Constitution [1809]
This seems to be the most common size for portrait-oriented satiric prints Used by D'Achery, Fores, Holland, Humphrey.
~20 x 16 inches
~51 x 41 cm
Shakespeare Sacrificed, or The Offering to Avarice [1789]
Lieut Goverr Gall-Stone [1790]
Apotheosis of Hoche [1798]
Extra large size for highly complex satiric caricatures.