Gillray's Techniques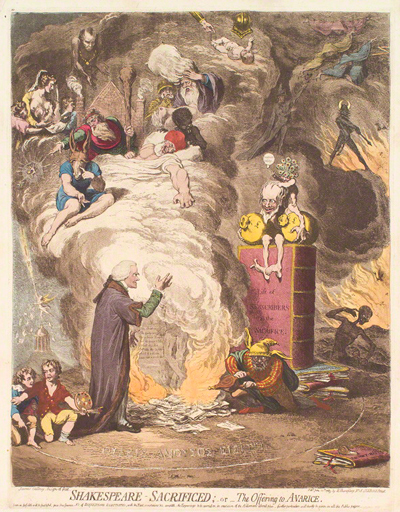 Introduction
Gillray was a professional caricaturist. He made his living creating satiric prints for printsellers such as Aitken, D'archery, Fores, Holland, and the Humphreys. Sometimes he was paid to work from ideas or even detailed drawings from friends, patrons, or government officials. And when he was working on a "breaking" story, he had to seize the moment and get something out quickly before competitors like Sayers or Cruikshank beat him to it. Sometimes, we are told, he purposely created works under a pseudonym or consciously mimicked the style of a Collings or Sayers for specific effects. In such a context, it is not surpring that his work can vary in quality, even in the mature years of the late 1780's and 90's.
But Gillray was also and always an artist. Unlike Rowlandson, who seems to have lost any artistic aspirations after the great drawings and watercolors of the 1780's, Gillray continued to display an almost obsessive attention to detail and a formal and technical brilliance in the production of his prints that is all out of proportion to their immediate satiric goals.
How else do you explain prints like Shakespeare Sacrificed, or the Offering to Avarice [1789], The Reception of the Diplomatique & his Suite, at the Court of Pekin[1792], or The Apotheosis of Hoche [1798]?
Admittedly, Gillray had an axe to grind in Shakespeare Sacrificed. The publisher, John Boydell had planned an elaborate edition of Shakespeare to be illustrated by English artists. A corresponding Shakepeare Gallery would display the original paintings. And engravings of those paintings would appear in both the folio edition and as separate prints. Gillray had hoped to be included as one of the engravers if not one of the artists. In both, he was, to put it mildly, disappointed. Boydell is shown burning Shakespeare's plays as an offering to Avarice, while a fool fans the flames. The resulting smoke almost completely obscures the ghostly figure of Shakespeare with a scroll (based on the monument to Shakespeare in Westminster Abbey). But in addition to the caricature of Boydell, there are wonderful parodies of many of the Shakespeare Gallery paintings as if to demonstrate that Gillray would have been perfectly capable of both inventing and engraving such scenes.
In The Reception, however, there is no axe to grind and nothing to be gained by the incredible elaboration of the print.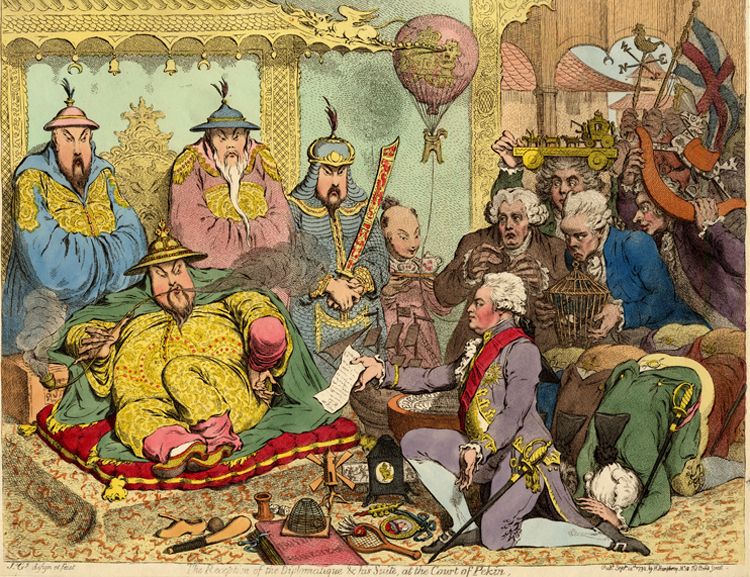 The Reception of the Diplomatique & his Suite...[1795]
© Trustees of the British Museum
As Draper Hill explains in his notes on this print in Fashionable Contrasts, The Reception... was actually produced before this diplomatic mission to China had even left England. And though Gillray may have known that the mission was to include a number of gifts of English manufacture, the scene presented, though wonderfully prophetic of the Chinese reaction, is entirely fanciful. A brilliant satire of diplomatic misjudgement and insularity it is, but it is also Gillray's statement that he has mastered orientalism as well as any "serious" artist.