Gillray's Works
Printsellers/Publishers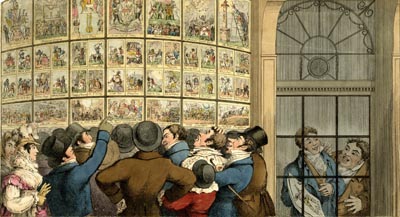 We are accustomed to think of Gillray working almost exclusively with Hannah Humphrey and indeed eventually living above her shop as a boarder at 27 St. James's Street. And it is certainly true that Gillray worked much of his active career for Mrs. Humphrey or other members of the Humphrey family. But, especially while he was making his name in the business, Gillray created prints—satiric and otherwise— for a surprisingly wide variety of publishers. Sometimes a print would appear with a small publisher and then, perhaps because it was popular, be taken over by a larger publisher. An especially crude example is the print Anticipation, or, The Approaching Fate of the French Commerical Treaty (1787) which first appears in a non-colored version publshed by a Mrs. Jackson, at Mary-le-bone Street, Golden Square. A colored version is then published by William Holland literally crossing out Mrs. Jackson's name and address and supplying his own beneath it.
What follows is a list of the publishers Gillray worked for. I include their names and addresses, the number of prints Gillray created for them, and (when there are multiple prints) a representative sample of the titles created for each.
BTW: The best source of information about the print and publishing culture in the long 18th century is Mathew Crowther's The Printshop Window.
Printseller &
Address
No. of Prints
Examples
J. Aitken
14 Castle Street
Leicester Square
18
Mendoza (1788)
Cooling the Brain, or The Little Major Shaving the Shaver (1789)
The Accomodating Spouse. Tyr-nn-es Delight!... (1789)
Shakespeare Sacrificed, or The Offering to Avarice (1789)
Lord Chancellor Thurlow (1789)
Mr Edwin in the Crusade (1790)
Scotch Harry's News, or Nincumpoop in High Glee (1792)

C. Atkinson
Mark Lane
1
The V__ Committee Framing a Report (1782)
W. Brown
Unknown
1
A Warm Birth for the Old Administration (1782)
J. Browning
Oxford Street
1
Dame Rat, and Her Poor Little Ones (1782)
E. D'Archery
No. 11 St. James's Street
13
Britannia's Assassination, or the Republicans Amusement (1782)
Rodney Triumphant, or Admiral Lee-Shore in the Dumps (1782)
Malagrida & Conspiritors, Consulting the Ghost of Oliver Cromwell (1782)
Rodney Invested, or Admiral Pig...(1782)
Ahithophel in the Dumps (1782)
The Jubilee (1782)
Judge Thumb, or Patent Sticks for Family Correction (1782)
The Nabob Rumbled or a Lord Advocate's Amusement (1783)

M. Darly
[39] Strand
2
Prattle, the Political Apothecary [?] (1779)
Bumbardinian. Conferring upon State Affairs with One in Office (1780)
S.W. Fores
3 Piccadilly
49
Ancient Music (1787)
Dido Forsaken. Sic Transit Gloria Reginae (1787)
Monstrous Craws at a New Coalition Feast (1787)
A March to the Bank (1787)
Amsterdam in a Damn'd Predicament... (1787)
Blood on Thunder Fording the Red Sea (1788)
The Westminster Hunt (1788)
Market Day (1788)
The Funeral Procession of Miss Regency (1789)
Bandelures (1791)
The Impeachment, or The Father of the Gang Turn'd Kings Evidence (1791)
A Birmingham Toast, as given on the 14th July by the Revolution Society (1791)

John Harris
Sweetings Alley, Cornhill
1
Monsieur le Comte de Grasse (1782)
John Hatchard
No. 190 Piccadilly
1
The Arms of France (1803)
William Holland
66 Drury Lane (1783-86)
50 Oxford Street (1786-88)
15
Apollo and the Muses Inflicting Penance on Dr Pomposo round Parnassus (1783)
Wife & No Wife, or a Trip to the Continent (1786)
The Morning after Marriage, or a Scene on the Continent (1786)
The Political Banditti Assailing the Saviour of India (1786)
A Sale of English Beauties in the East-Indies (1786)
The Prince's Bow [?] (1788)
Mrs. Holt
No. 111 Oxford Street
1
Sawney in the Bog-House (1779)
S. Hooper
25 Ludgate Hill
Ecce! (1782)
G. Humphrey
48 Long Acre
5
The Coalition/Junction of Parties Re-named (1782)
Black Dick Turn'd Taylor (1788)
Flemish Characters (1793)
A Barbers Shop in Assize Time (1818)
H. Humphrey
Bond Street [1778]
18 New Bond Street [1779]
St. James's Street
648
Politeness (1779)
[Lady (Mount) Edgcumbe] (1780)
Signor Puppy. First Catgut Scraper 1781)
Banco to the Knave (1782)
Neither War nor Peace! The Astonishing Coalition (1783)
Paille d'Avoine, Paille d'Avoine (1786)
La Belle Assemblee (1787)
Wouski (1788)
The Vulture of the Constitution (1789)
Lieut Goverr Gall-Stone, Inspired by Alecto, or the Birth of Minerva (1790)
The Rights of Man, or Tommy Paine, the Little American Taylor... (1791)
A Connoisseur Examining a Cooper (1792)
A View in Perspective. The Zenith of French Glory. The Pinnacle of Liberty (1793)
The Noble Sans-Culotte (1794)
Light Expelling Darkness (1795)
Lady Godina's Rout, or Peeping Tom Spying Out Pope Joan (1796)
Push-Pin (1797)
The Apotheosis of Hoche (1798)
Egyptian Sketches (1799)
Democracy, or a Sketch of the Life of Buonaparte (1800)
The Union Club (1801)
The Cow-Pock, or the Wonderful Effects of the New Inoculation! (1802)
The King of Brobdingnag and Gulliver (1803)
Brisk-Cathartic (1804)
The Plumb-Pudding in Danger, or State Epicures taking un Petit Souper (1805)
Making Decent, i.e. Broad-bottomites Getting into the Grand Costume (1806)
The Fall of Icarus (1807)
Very Slippy Weather (1808)
The Life of William Cobbett, written by himself (1809)
"A Little Music " or the Delights of Harmony (1810)
Old Q (1811)
W. Humphrey
Gerrard Street, Soho [1775-1777]
227 Strand [1778-1782]
Lancaster Court
127
Six-Pence a Day (1775)
Pro Bono Publico and his Lady (1776)
The Death of Rochester (1777)
The Captain's So Kind (1777)
Grace before Meat, or a Peep at Lord Peter's (1778)
Squire Thomas Just Arrived (1778)
The Church Militant (1779)
The State Tinkers (1780)
The Dutchman in the Dumps (1781)
Sir Richard Worse-Than-Sly Exposing His Wife's Bottom... (1782)
A New Administration, or the State Quacks Administring (1783)
Ahithophel in the Dumps (1785)

Mrs. E. Jackson
Mary-le-bone Street, Golden Square
1
Andrew Robinson Bowes Esqr. as He Appeared in the Court of Kings Bench... (1786)
Anticipation, or The Approaching Fate of the French Commerical Treaty (1787)
J. Jarvis
Richmond Buildings
1
Honi Soit Qui Mal Y Pense (1787)
P.J. Leatherhead
Possibly Fictitious
1
The Kettle Hooting the Porridge (1782)
R. Macklin
No. 39 Fleet Street
2
Sophia, Honour & the Chambermaid (1780)
Jones, Partridge and the Cripple (1780)
C. Morgan
Holles Street Cavendish-Square
1
The Injured Count, S
S.J. Neale
No. 352 near Exeter 'change, Strand
1
General Murray (1782)
R. Phillips
Southwarke
3
The Minister Endeavoring to Eke Out Dr Pr*ty***n's Bisho-Prick (1787)
A Noble Lord, on an Approching Peace, Too Busy to Attend to the Expenditure of a Million of Public Money (1787)
The Board of Controul, or the Blessings of a Scotch Dictator *(1787)
W. Renegal
Unknown
1
Argus (1780)
W. Rennie
Unknown
1
Old Wisdom Blinking at the Stars (1782)
William Richardson
No. 403 Strand (1777)
No. 174 near Surry Street Strand (1783)
1
The Country Politicians (1777)
The Fox and Stork [?] (1783)
James Ridgeway
196 Piccadilly
1
Westminster School, or Dr. Busby Settling Accounts... (1785)
M. Smith
No. 46 Fleet Street
1
The Irish Patriots (1783)
T. Trotter
Unknown
1
Love in a Coffin (1784)
S. Vivares
No. 13, Great Newport Street
3
L'Enfant Trouve (1785)
The Tender Mother (1787)
The Happy Mother (1787)
W. Wells
132 Fleet Street?
1
Returning from Brooks's [?] (1784)
R. Wilkinson
No. 58 Cornhill? 20 Strand
18
The Sinking Fund [?] (1779)
[Portrait of Haidar Ali] (1781)
The Return (1781)
Remorse (1783)
The Village Train (1784)
The Deserted Village (1784)
The Nancy Packet (1784)
The Duke of Athol East Indiaman (1785)
J. Williams
No. 227 Strand (William Humphrey's address)
1
A Sun Setting in a Fog; with the Old Hanover Hack Descending (1783)
John Wright
169 Piccadilly
3
A Peep into the Cave of Jacobinism (1798)
Councellor Ego, i.e. Little I, Myself I (1798)
Two Pair of Portraits (1798