Bibliography
Gillray
So far as I know, there is no easily accessible bibliography of Gillray, comprehensive or otherwise. What follows then makes no claim to being complete, but it is a start. I will add entries as I find them.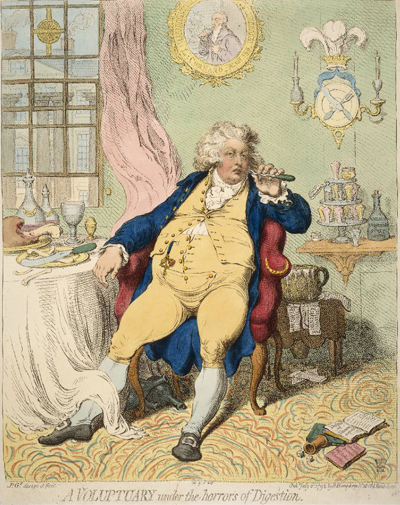 Anonymous, "James Gillray on War and Taxes during the War against Napoleon," Online Library of Liberty. 2016
Bannerji, C and Donald, Diana, Gillray Observed: The Earliest Account of His Caricatures in London and Paris, 1999
Baker, Dustin, "Locating Gulliver: Unstable Loyalism in James Gillray's...," Image [&] Narrative, 2013
Bate, Jonathan, "Shakespearean Allusion in English Caricature in the Age of Gillray," Journal of the Warburg and Courtauld Institutes, 1986
Caswell, Lucy Shelton, et al. eds. Gillray's Legacy; Exhibition Catalog, 2004.
Cooper, John, "James Gillray and the French Revolution," RSA Journal, 1989
Davis, C. Rexford, "Cobbett and Gillray,"The Journal of the Rutgers University Library, Dec. 1955
Domenici, Karen, "James Gillray: An English Source for David's Les Sabines," The Art Bulletin, 1983
Godfrey, Richard, "Four Wood Engravings by James Gillray," Print Quarterly, 1984
Godfrey, Richard and Hallett, Mark, James Gillray: The Art of Caricature, 2001
Hart, Katherine W. and Hacker, Laura, James Gillray: Prints by the 18th Century Master of Caricature, 1973
Hayman, Timothy, "James Gillray: The Faro Table," British Vision: Observation and Imagination in British Art, 1750-1950, 2007/8
Hill, Draper, ed. Fashionable Contrasts: Caricatures by James Gillray, 1966
Hill, Draper, Mr. Gillray The Caricaturist, 1965
Hill, Draper, ed. The Satirical Etchings of James Gillray, 1976
Hoagwood, Terence, "Gillray, Cromwell, and the Problem of Representation," The Wordsworth Circle, 1994
Katanka, Michael, Gillray and Cruikshank, 1973
McPhee, Constance C., "How Napoleon Became an Emblem," Art in Print, 2011
Paulson, Ronald, "The Ambivalence of the Political Cartoonist,"Satire in the 18th Century, ed. J.D. Browning, 1983
Paulson, Ronald, "The Grotesque, Gillray, and Political Caricature," Representations of Revolution, 1983
Reily, John, "Rowlandson and Gillray in the Auchincloss Bequest," The Yale University Library Gazette, 1981
Reily, John C, and Roylance, Dale R. "The Age of Horace Walpole in Caricature : An Exhibition of Satirical Prints and Drawings from the Collection of W. S. Lewis," The Yale University Library Gazette, 1973
Wright, Thomas, and Evans, R.H.,Historical and Descriptive Account of the Caricatures of James Gillray, 1851
Caricature
There is a reasonably comprehensive bibliography of books and articles on caricature (including works on some of the major caricaturists) in the catalog accompanying the recent, excellent exhibition, Infinite Jest: Caricature and Satire from Leonardo to Levine at the Metropolitan Museum of Art (2011-12). Included below is a much shorter list of works that I have mostly consulted and found helpful.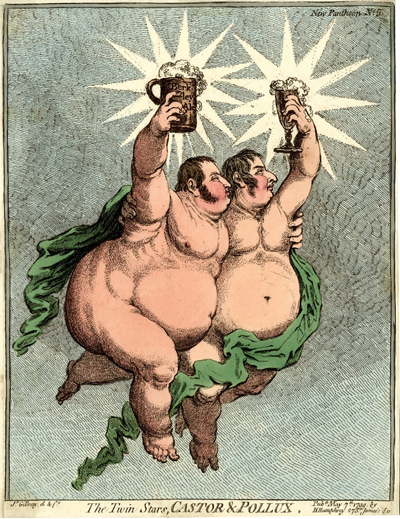 Donald, Diana, The Age of Caricature: Satirical Prints in the Reign of George III, 1996
Feaver, William, Masters of Caricature: From Hogarth and Gillray to Scarfe and Levine, 1981
Gatrell. Vic, City of Laughter: Sex and Satire in Eighteenth-Century, 2006
George, M. Dorothy, ed. Catalogue of Political and Personal Satires in the British Museum
George, M. Dorothy, Hogarth to Cruikshank: Social Change in Graphic Satire, 1967
Godfrey, Richard, ed. English Caricature 1620 to the Present, 1984
Gombrich, Ernst H, "The Principles of Caricature," Psychoanalytic Explorations in Art, 1938
Gombrich, Ernst H, Caricature, 1940
Gombrich, Ernst H, "The Experiment of Caricature," Art and Illusion, 1960
Gombrich, Ernst H, "The Cartoonist's Armoury," Meditations on a Hobby Horse, 1963
Gombrich, Ernst H, "Imagery and Art in the Romantic Period," Meditations on a Hobby Horse, 1963
Hayes, John T., Rowlandson: Watercolours and Drawings, 1972
Klingender, F.D., Hogarth and English Caricature, 1944
Kris, Ernst, "The Psychology of Caricature," The International Journal of Psychoanalysis, 1936
McPhee, Constance and Orenstein, Nadine, Infinite Jest: Caricature and Satire from Leonardo to Levine, 2012
Paston, George, Social Caricature in the Eighteenth Century, 1905
Paulson, Ronald, Hogarth: His Life, Art, and Times, 1971
Paulson, Ronald, Emblem and Expression: Meaning in English Art of the Eighteenth Century, 1975
Paulson, Ronald, Rowlandson: A New Interpretation, 1972
Porterfield, Todd, The Efflorescence of Caricature, 1759-1838, 2010
Rauser, Amelia, Caricature Unmasked: Irony, Authenticity, and Individualism in 18th Century English Prints, 2008
Robinson, Nicholas K., Edmund Burke: A Life in Caricature, 1996
Sherry, James, "Four Modes of Caricature: Reflections upon a Genre," Bulletin for Research in the Humanities, 1987
Wright, Thomas, A History of Caricature and Grotesque in Literature and Art, ed. Frances K. Barasch, 1968